I'm writing this on the darkest and longest night of the year. It's a good time as any to reflect on the past 12 months in Flow in the UK. Despite all the challenges in the external world, we've had a great year.
Our core team has grown from two (Susanne and Bridget) to three, including Ana Ospina who is our Cultivate co-ordinator. We have worked with some inspiring associates including Anna Husband, Laura Crossley, Jane Ruffino and Devorah Moritz. Over the summer months, we were lucky to have two interns, Fatima Khuzem and Alexandra Bagao, who carried out design projects related to their MA studies at Central St Martins and Ravensbourne (respectively).
We've delivered a wide range of talks, training and facilitation sessions, in areas such as Experience Design and Audience Development at Central St Martins, evaluating museum learning at University of Westminster. We delivered training for Guardian staff in narrative theory. We've delivered courses for Artswork in making change with digital learning. We've run workshops in thrivability and cultural wellbeing at the Ry Folk High School in Denmark (see photo above). We delivered training for cultural professionals in Creative Libraries in Qatar, and also, working with the Science Gallery, trained artists in science engagement in South Korea.
We've enjoyed a range of collaborations with universities. For example, we collaborated with Central St Martins' students on the MA in Narrative Environments to develop narratives and visitor experiences for the new building of the Institute of Physics. We were privileged to be invited by Wimbledon College of Arts to judge the Flow Award for sustainable arts practice, and the awardee was Yussef Agbo-Ola whose artwork is an exciting combination of plant material science, ecological innovation and sculpture.
We continued delivering our contract to co-ordinate and develop Cultivate. This is a creative learning programme across the regeneration area of Nine Elms that stretches from Battersea Park to Vauxhall. It's been a privilege to have a chance to work with teachers and children across this area. We know that teachers are struggling with workloads and reforms, and dealing with the pressures of a changing place, but we've also seen so much resilience and imagination in these schools. There's a lot to say about this, but will do an update post in the New Year.
We've been working with Invisible Dust developing a story of change for their growing organisation, creating evaluation tools and producing a report for the Human Sensor project (link about this here.) With programmes very close to our values, Invisible Dust works with leading artists and scientists to produce unique and exciting works of contemporary art and new scientific ideas exploring our environment and climate change.
We are evaluators for a new programme called Arts-friendly Archives (link here), which is led by drama specialist Jefny Ashcroft. Three plays draw on historical archives in Wolverhampton, Dudley and Stratford upon Avon. The project includes training of archivists and targeted audience outreach to engage new creative and diverse users of archives.
Flow also helped the Heritage Lottery Fund review all their processes and marketing materials for their Board and committee recruitment, aiming to increase their diversity and inclusion. See more here.
We also carried out audience research for English Heritage to review all the historical material on their website, including the Story of England.
We concluded our 3 year-long evaluation of the Ashmolean Museum's Me, Myself and Manet programme, and enjoyed the final project, Beyond the Balcony, led by digital artists brook and black working with Young Dementia UK and MIND. About Me, Myself and Manet here.
We enjoyed working for Royal Museums Greenwich, especially as they are in our neighbourhood. We continued to evaluate the ongoing Travellers' Tails programme, a major partnership initiative exploring big themes of encounter. More here.
We delivered audience research to inform the National Maritime Museum's Endeavour project, the development of four permanent galleries, and this included amongst many other activities, researching people's views on climate change. More about Endeavour here.
In a similar vein, we also carried out research and activity planning for the the Science Museum's planned Medicine Galleries, including developing plans for being a more dementia-friendly museum.
One of our most exciting and challenging projects this year has been Future Views. This is a forward-looking research project, creating tools to help imagine the next generation of cultural learning in 20 years' time. Royal Opera House Bridge, Artswork and Festival Bridge are working together with Local Cultural Education Partnerships (LCEPs) across the South East. They commissioned us to organise a series of discussions and trial a toolkit, to explore how emerging technologies, organisational behaviours and critical trends in the world might shape cultural learning in a local context. The final toolkit will be launched in the Spring. More about Future Views here.
Continuing the future-looking theme, we have recently begun a new role as evaluators for Make Your Future, which is a national programme led by the Crafts Council, connecting traditional craft with digital technologies. It aims to ignite a passion for craft in young people, working with Higher Education Institutions, cultural partners, secondary schools and makers to mash up traditional and digital making skills in the classroom. It will pioneer an approach that strengthens the position of making skills as a cross-curricular bridge in schools, creating new opportunities for work and study in ceramics, metalwork, textiles and digital craft. About it here.
Another project we are proud to support through our evaluation expertise is Amal, supporting Muslim arts and cultures. We are happy to be working on it because it aims to nurture a more cohesive and vital British society, overcoming divisions and misunderstandings, through secular cultural programming. See more here.
We firmly believe in the power of culture to heal divisions and make positive change in communities. It helps places thrive. Through all our contracts, whether training or consultancy, we are slowly and rigorously developing a new framework for planning and evaluation based on this idea of Thrivable Culture. We will be consolidating and sharing this framework more widely and will be looking for partners to help with this. Please do get in touch if you'd like to discuss this or any other project.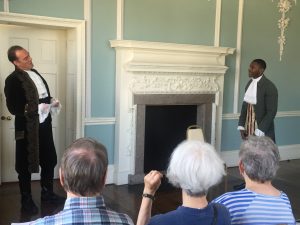 Surname Africanus play at Wolverhampton Archives, part of Arts-friendly Archives